About Me
As a young child I loved sewing, knitting, painting and drawing and immersing myself in a creative world of my own making. It was apparent that I was destined to have a creative career and I was very much encouraged in this direction by both my family and school teachers.
At school I won cups and prizes for my art, which further fuelled my passions for all things creative. At the age of 14 I had my first paid illustration commission. This involved illustrating a brochure of summer events which were taking place in Swanage, where I was growing up.
When I was 16 I arranged my first exhibition of work in my parents' home – my lovely mum very generously let me have the use of the sitting room for this event. I sold lots of paintings; oil on paper, in clip frames, mainly inspired by our family holiday to the South of France. It was a great little earner for the summer holidays and proof that I would be able to make money from my art.
After completing a foundation course at Bournemouth and Poole College of Art and Design I was accepted at Central St Martins School of Art. I enrolled on a four-year BA degree course studying fashion design and printed textiles. This included taking the third year out to work and gain experience within the industry. I was offered a placement at the Style Council in New York, where I worked as a textile designer designing prints for womenswear. I loved it and returned to college with knowledge of the print world.
I graduated in 1992 and set my sights upon becoming a freelance illustrator. I had loved studying fashion design, but not enough to want to forge a career within it.
Initially I had a huge amount of rejection from magazines, publishers, art agencies and card companies but eventually I was commissioned to design two Christmas gift wraps for Friends of the Earth. Traipsing around London with my portfolio had paid off. From here onwards things roller-coastered. I frequently designed cards and giftwrap for Tigerprint (publishers for M&S). I continued selling paintings, designing prints for womenswear and creating card ranges and gift wraps. My freelance career had taken off, within a year of leaving college.
Since then, I've had hundreds of images published worldwide including cards, gift wrap, needlepoint, kitchenware, placemats, diaries, calendars, scarves and posters. My clients have included M&S, WHSmith, Woolworths, Artists Cards Ltd, Ladybird Books, Rosenstiel's Fine Art Publishers, Nigel Quiney, Toybox, BBC Pets, Girltalk, Guiding, Art Cards Cornwall, Artists' Cards Ltd and The Art Group Ltd.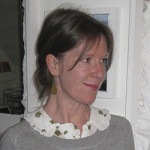 After an eleven-year stint in London I moved to Cornwall where I have carried on painting, making and sewing. I live with my gorgeous son and beautiful whippet in a terraced cottage near the sea.